| | | | |
| --- | --- | --- | --- |
| Creating a FoCuSeD™ Organization by Gary Rush Facilitation | | | |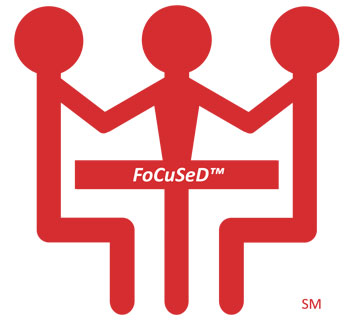 "A FoCuSeD™ Organization is the ultimate Collaborative Organization, one that, through facilitation, engages its workforce in effective communication and decision-making."
Why?
Why would you want to do this?  How significant is the value of Facilitation?
In 2012, the IAF initiated an award program, the IAF Facilitation Impact Awards (FIA) honoring excellence in facilitation and its positive impact on organizations around the world.  The purpose was to demonstrate the value of facilitation by highlighting and celebrating organizations and Facilitators whose use of facilitation had significant impact on their organization.  The combined financial impact (savings, cost avoidance, increased revenue, and increased outside investment) for these organizations not only was hundreds of millions of dollars, but more importantly, their culture shifted to be more engaged, empowered, and more creative in solving the organization's problems that contributed to the overall well being of the organization.
A few recipients:
The Defense Intelligence Agency (DIA), trained by Gary Rush Facilitation, used facilitated workshops to engage employees and resolve unit and departmental issues in addition to making the goal of the organization to have managers and analysts collaboration competent. As a result, facilitation is now used at all levels of the agency, is used to develop the strategic direction of the agency, and, using facilitation to work through workplace issues, has saved the agency $500,000 by avoiding formal resolutions.


Newport City Renaissance Corporation was dealing with a drastic change in demographics, loss of jobs, struggling economy, and limited resources. They used facilitated workshops engaging city officials and the community to completely transform the city of Newport through neighborhood projects, bringing in over $250 million in investments, adding 2000 jobs (out of a city of 5000), and building the needed momentum to maintain the engagement.


Oxford Properties, one of the largest shopping centers in Canada, a change in management after almost 20 years prompted the new Property Manager to look into ways to improve customer service, improve relations between management and employees, and develop a plan for the future that everyone felt part of. They used facilitated workshops engaging all employees to set standards, create a vision for the shopping center, generate recommendations from employees for motivation and professional development, and break down barriers between management and employees. As a result, employee grievances dropped by 50%, 13 employees were promoted, 79 new recognition awards were given, and customer satisfaction has improved 5 times. Intangible benefits include commitment, change in attitude, improved collaboration, and improved morale.


Foremost Farms conducted a series of facilitated workshops with management and union to evaluate their cheese making system to improve turnaround time. They reduced turnaround time from 5 hours to 3 hours increasing their production by over 14,000 pounds per day. This added over $640,000 in annual revenue.
How significant is the value of Facilitation? Facilitated workshops have been proven to deliver significant value to any organization. The millions of dollars saved by the recipients is small when you look at the overall savings achieved by all of the recipients combined. It proves that when organizations engage everyone and they learn to collaborate effectively, the organizations thrive and grow.
Collaborative Leadership
Times are changing and in many parts of the world, collaboration and consensus building is the preferred approach.  In a FoCuSeD™ Organization, Leadership is still responsible for decisions, but they engage their people and develop consensus on decisions rather than using command and control.  In a FoCuSeD™ Organization, the workforce maximizes team commitment, engagement, collaboration, and productivity that contributes to the overall well being of the organization.
How do you make this happen?
Building a FoCuSeD™ Organization requires that senior leadership set the example and enable their workforce by developing the leadership behavior and understanding needed to effectively participate in a collaborative environment.  It requires that the workforce develop facilitation skills needed to engage in effective communication, effectively participate in decision-making, and work collaboratively.  A series of facilitated workshops along with leadership, Facilitator, and facilitation skills training are required to transform the organization and make this happen.
Leadership Engagement
The first step is to engage senior leadership in an initial facilitated workshop to develop consensus on "how" they see Collaboration in their organization.  Being told what collaboration is contradicts the concept, and "collaboration" has been defined numerous ways. The initial facilitated workshops are facilitated by MGR Consulting, Inc. to ensure neutrality.
Leadership behavior and understanding is reinforced with our 4-day class FoCuSeD™ Leader – Lessons for Collaborative Leaders.  This class ensures that the necessary tools, knowledge, and capabilities are available to be successful.
Internal Core Team of Master Facilitators
To be able to conduct multi-day facilitated workshops, the organization needs an internal core team of comprehensively trained Facilitators.  These "Master Facilitators" may not reside in one organizational unit, but they will become well engaged throughout the organization.  Major projects and efforts will go to these Facilitators and engage them in facilitating workshops to deliver a complete solution that is developed by engaging the appropriate stakeholders to reach consensus-based decisions.  These internal core team of Facilitators need to understand "how to" prepare to make facilitated workshops productive and "how to' develop successful processes that enable a group of people to come together to accomplish a task.
The internal core team develops these skills in our 5-day class The FoCuSeD™ Facilitator Academy. It's the most complete, comprehensive, and effective structured facilitation class available, providing detailed training on the concepts of Holistic Facilitation. MGR Consulting, Inc. will coach the internal core team of Master Facilitators as they facilitate workshops giving them hands-on post training experience.
Each internal core team Facilitator is encouraged to become an International Association of Facilitators (IAF) Certified™ Professional Facilitator (CPF).  Achieving the designation of IAF CPF is an exciting and rewarding accomplishment.
Facilitation Skills
To function effectively in a collaborative environment, the workforce needs to develop effective facilitation skills that contribute to the overall well being of the organization. The level of training needs to be targeted so that the workforce receives the right training to perform effectively and collaboratively. Our FoCuSeD™ classes:
1-day FoCuSeD™ Foundational Group Facilitation Skills - Problem-Solving Process class – it covers People Skills that develops effective facilitation skills to supplement job skills. Ideal for all people.


3-day FoCuSeD™ On… class – it covers People Skills and Process Design. Ideal for anyone working in project management, Six Sigma, TQM, and other quality initiatives.


4-day FoCuSeD™ Business Facilitator class – it covers People Skills, basic Process Design, Strategic Planning, and Problem Solving. Ideal for anyone who will facilitate planning and a variety of business situations.
Making it Happen
A Program Design plan needs to be developed identifying the facilitated workshops, FoCuSeD™ training, and schedule. This Program Design plan is developed collaboratively with senior leadership prior to the initial Senior Leadership Facilitated Workshop. Once the Program Design plan is approved, the initial Senior Leadership Facilitated Workshop and 5-day FoCuSeD™ Facilitator Academy class can be delivered with the remaining facilitated workshops and FoCuSeD™ training occurring considering the workload and impact on the organization.
FoCuSeD™ Licensing Program

The organization is licensed to deliver the 1-day FoCuSeD™ Foundational Group Facilitation Skills - Problem-Solving Process class and the 4-day FoCuSeD™ Leader class within the organization to their internal people only.  This ensures that all new employees and leaders hold the same fundamental principles.
Feedback and Communication
We close the loop with feedback – a Training Assessment Workshop to identify what worked, what didn't work, and what could be improved as they move forward. This feedback is considered to enhance future FoCuSeD™ training.
We maintain communication to keep the training fresh through our FoCuSeD™ eNewsletter. Additionally, alumni of our FoCuSeD™ training are able to contact us with questions or advice.
Please contact Gary Rush, IAF CPF, for additional information or questions.

How Significant is the value of Facilitation?

This past year, I was on the committee that developed the inaugural IAF Facilitation Impact Award (FIA) program. I was... read more...